How can I calculate voltage drop over cables?
Follow
One of the most essential parts of a deployment, if not the most essential part, is the power supply to the instrument.
In this article, we will explain and show how you can calculate the voltage drop over our Nortek cables in order to ensure enough power supplied to your deployment. In addition, we make some recommendations on best practices when it comes to power supply and communication over cables.
The two most important things you need to consider are:
The instrument needs enough voltage to operate fully and emit sound waves.
The instrument has a maximum voltage rating.
Over-voltage will lead to broken electronic circuits, or worse.
Voltage drop:
Voltage drop occurs due to the resistance in a cable, causing energy to be lost as heat. The thickness and the length of the cable are two variables affecting the amount of resistance, and are also two factors you can affect when planning your deployment. The voltage drop along a cable is a function of the current draw (I), cable length in meters (L) and resistance of the cable (R):
Vdrop = I*(L*2)*R/1000
When calculating voltage drop in a circuit, we have to account for the power travelling to the instrument and back. To do so, we time the cable length by two.
As an example, we want to supply power to a Signature 1000 located 100 meters (L) away using Nortek's 20 AWG Ethernet cable. The resistance of this cable(I) is 34.3Ω/km. Assuming the Signature has a current draw(R) of 1 amp, we can input these numbers into the equation as follows:
Vdrop = 1*(100*2)*34.3/1000
Calculating this, we find Vdrop equals 6.86, leaving approximately 17V to power the instrument. As Signature 1000's DC input is 12-48V, we can the assume a 24V power supply would be sufficient for this mission.
Resistance for Nortek's cables:
Ethernet

Serial

AWG

Resistance

AWG

Resistance

20

34.3Ω/km (10.5Ω/1000')

18

22Ω/km (6.8Ω/1000')

24

90Ω/km (27.4Ω/1000')

24

99Ω/km (30.4Ω/1000')
Note: The thicker the cable, the lower the resistance.
The longer the cable, the higher the resistance.
At Nortek we provide the following solutions to combat the downsides of longer cables and to ensure high quality data during the whole deployment:
For transmission over 50m we recommend the use of the RS422 communication protocol, as the 232 protocol is the simplest form of serial data transmission and will be too slow and might cause loss of data.
Online cables. These cables are tougher and are designed to be deployed under water and survive the harsh conditions over a long period of time.
DC/DC converter. This converter is placed inside the instrument, scales down the incoming voltage to 15V, and has an input range of 24-48V giving a lot more freedom and peace of mind when designing a power supply.
Interface Box. We recommend this for all applications over 100m and for customers that are less familiar with electronics and want a simple and reliable solution. This is a product we have tried and tested over many years.
The interface box is powered by 220 AC voltage and communicates with the instrument only via RS422 and uses a specific round connector at the dry end.
Output is 48 DC voltage.
Having a stable supply is just as important as having the correct voltage. An unstable supply of power can lead to bad data and intermittent issues. In case of bad power surges without interface box or DC/DC it can be fatal to the electronics.
In the case of multiple power sources instruments will draw current from the highest Voltage source untill the sources have equal voltage, then it will draw from both sources.
Check out the data sheet for your specific instrument for exact requirements.
| | | |
| --- | --- | --- |
| Instrument | Voltage input range | Voltage input range with DC/DC converter installed |
| AWAC and 2D Profiler | 9-18 V | 24-48 V |
| Midlife (AQD/AQP/Vector/Vectrino) | 9-15 V | 24-48 V |
| Signature/DVL 1000/500 | 12-48 V | n/a |
| Signature 250/100/55 | 15-48 V | n/a |
Ethernet for the AD2CP electronics has to be powered individually; the cable has a power jack breakout cable at the dry end together with the RJ45 contact. The instrument comes with a power supply from Nortek as standard.
This power supply has an output of 24 VDC (2.5A), which will power the whole instrument.
Ethernet will not work if power is supplied over the serial port or from a battery. Only connect power to the port you will use.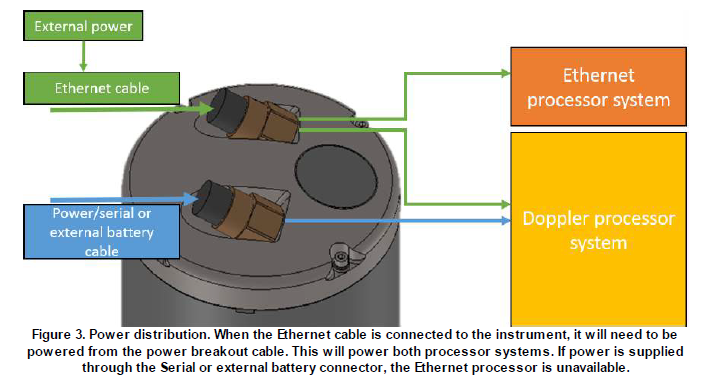 See the Operations Manual – Signature250, 500 and 1000 and the Operations Manual – Signature55 and 100 for more information.
NB. Do not connect power before all contacts are secured and connected properly.
And as always; if you need further help please send us an email to support@nortekgroup.com with a detailed explanation and we will help you as quickly as possible.