How do I use a loopback test to check my cable is working?
Follow
Please consult the troubleshooting section (chapter 5) in the comprehensive manual before starting to troubleshoot your instrument.
Opening the instrument and accessing the electronics or performing repairs requires technical understanding, please follow the manual and if you are unsure about anything have a technician perform the work or contact Nortek support.
A standard Nortek midlife instrument communication setup consists of these parts you can perform a loopback test on:
9-pin D-sub (connects to the converter)
8-pin end-bell connector at the wet end of the cable
9-pin Molex connected to the connector on the inside of the end-bell
24-pin Molex connected to the electronics card
A loopback test can be performed at every step within the setup to track down a potential error in the communication lines.
Working your way from the converter to the electronics card will test all parts of the setup, one by one.
What is a loopback test?
The PC will send a signal via the "receive" pin (from instruments point of view) that is looped back to the send pin by connecting the send and receive pins.
The signal the PC sends out is then sent back to the PC and is shown in the terminal emulator. This is called a loopback-test.
It basically loops back the sent signal as the received signal. This can be a very helpful tool when troubleshooting.
How to perform the loopback-test:
Loop the send and receive pin (Tx = transmit, Rx = receive)
See FAQ for termination.
Connect the converter to the PC using the USB.
Open the Nortek program normally used to connect to the instrument (AquaPro, Aquadopp, AWAC or Vector).
Choose the correct com port via "Communication - Serial port"
(see

FAQ

if unsure)
Open the terminal emulator "Communication - Terminal Emulator".
Now type the letter A as a command and press send, this letter/signal should be rerouted back.
Any letter written SHOULD be shown on the screen when sent.

Picture 1 showing how this will look on your screen: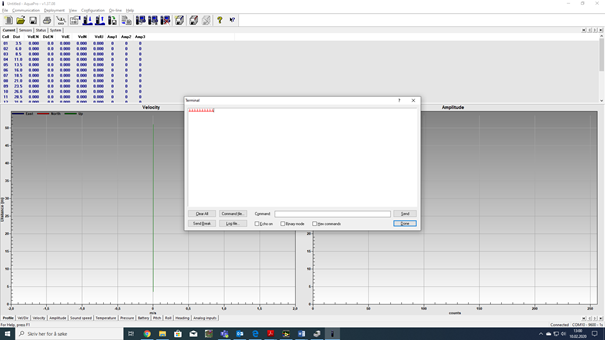 If the letter(s) appear then the part being tested is doing its job (there could still be other issues with the part).
If the part is not responding, then there is something wrong with the wiring or the part is damaged.
Use a working part if moving on to test the next part of the setup.
And as always; if you need further help please send us an email to support@nortekgroup.com with a detailed explanation and we will help you as quickly as possible.