Why can't I open my Signature .deploy file?
Follow
Occasionally when trying to reopen a .deploy file in SignatureDeployment, you can get an error about validation limits not being available: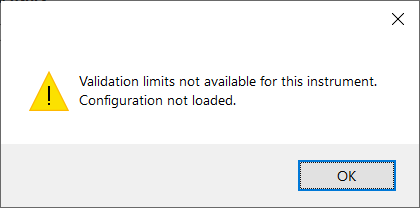 This error pops up if the C:\ProgramData\Nortek\Deployment\Settings\Limits.txt file is missing entries that match the instrument type and firmware version in the .deploy file. The limits.txt file is always updated when installing a newer software version and when connecting to an instrument. In this case the instrument was probably configured using a different computer.
A workaround would be to connect to the instrument (if possible, or any instrument running the same firmware) using the computer that has the problem, or copy the limits.txt file from the computer that was used to configure the instrument.