I cannot communicate/can only communicate intermittently with my instrument. What shall I do?
Follow
Our yearlong experience in where to start looking if an instrument does not communicate as intended is the cable. We usually recommend this test when instruments mounted on boats has some type of communication issue, as it may reveal a cable issue without having to disconnect the cable (as you would need to if you were to e.g. beep through the cable). It is also relevant for other instruments also. Some guidance points first:
Work in a systematic way and do not neglect the obvious.
Get a good overview of the installation (e.g. junction box / solder points / junction cable)
Get a good overview of the problem; make notes during the troubleshooting process.
Start by looking for simple causes such as power not connected, bad connections etc.
If the system involves custom cables, power supply or the like, first assemble and test the instrument using just the cables and battery that came with the system. This is the easiest way to get the system to work, and if you have trouble, you can always return to this setup to confirm that problems are not caused by a faulty instrument.
We have a test that we find very useful, that checks the cable for short circuits or discontinuities. For this test you will need a multimeter.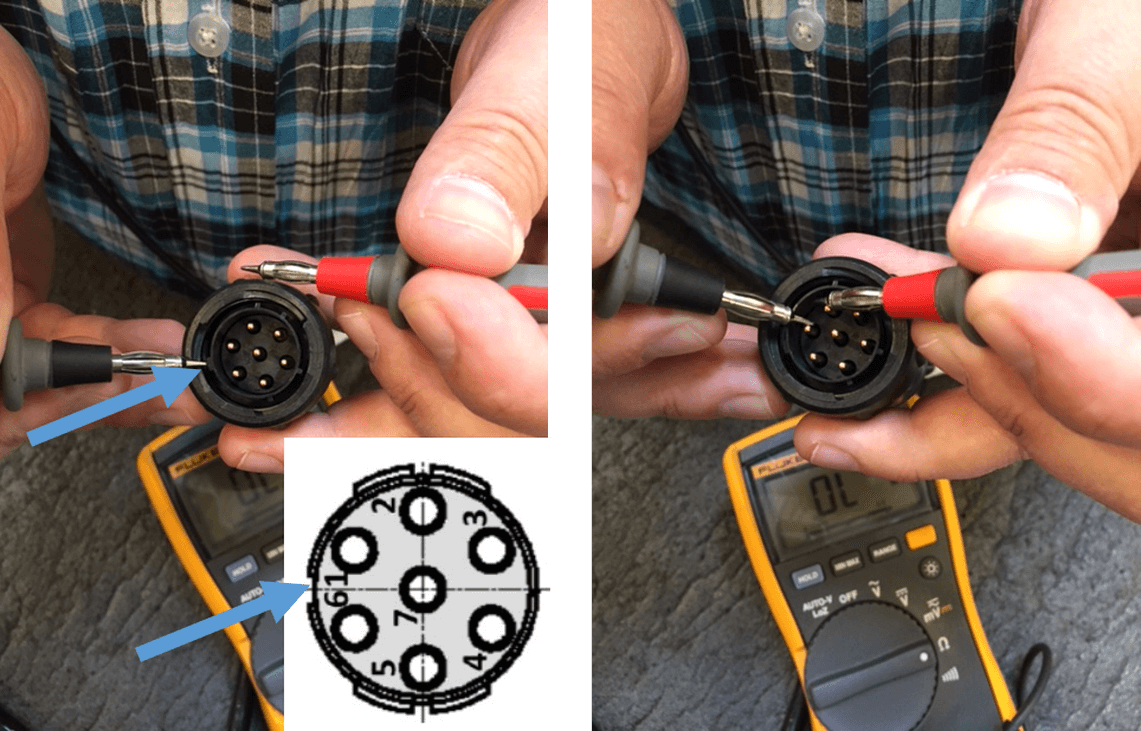 Left: The blue arrows point toward tap showing the orientation and pin numbering. Right: A test revealing that there is a problem with the power line
Disconnect the cable from the interface box, PC or power source. The cable should still be connected to the instrument
Use the multimeter and measure the resistance (Ohm) between two and two pins, as the table below indicates.
Check that the values you get corresponds to the expected values (see table)
| Pins | Value [Ohm] |
| --- | --- |
| 1 and 2 | 1 MOhm |
| 3 and 4 | 130 Ohm |
| 5 and 6 | 1 MOhm |
If you are interested in the details; pin 1 and 2 is power ground and power, pin 3 is RS422 Rx-, pin 4 is RS422 Rx+, pin 5 is RS422 Tx+, and pin 6 is RS422 Tx-. This is also described in the Quick Guide. You are welcome to make a new support request if you do not find this guide sufficient.