How do the Signature Deployment applications decide the sampling scheme?
Follow
When you are configuring your Signature instrument in the Signature Deployment software, the second step in the deployment wizard is "Application". This is where you choose what type of measurements you want to carry out. The Signature instruments have different maximum sampling rates, ranging from 1 Hz for the Signature 55 to 16 Hz for the Signature 1000. For Signature 250, 500 and 1000 (which all have a maximum sampling frequency larger than 1 Hz), this means that within each second, the instrument has several slots available that can be filled with different types of measurements. You can either choose a single plan, only using one application, or combine two or several applications in a concurrent or an alternating plan. The more applications you use, the lower maximum sampling frequency within each application will be possible. Your deployment will also require more memory and power when you are filling up more slots. We recommend that you pay attention to the Effect tab on the right hand side in the deployment wizard to see how changes you do affect the deployment.
There are different applications available depending on what type of instrument you have, and which licenses you have activated. Some of the applications also require several slots because they include several types of measurements. The Wave height and direction application will for example occupy at least two slots since this application both use one slot for velocity measurements for orbital velocities and one for measuring the distance to the surface with the altimeter. To achieve a successful deployment it is crucial to understand what type of data you get from each application and combine them correctly. This FAQ explains how you can check what sampling scheme the instrument currently is set up to.
A table with an overview of all available applications and what data they output for respectively Signature 1000 and Signature 500 can be found in the following FAQs:
Which application should I use for my Signature 500 measurements?
Which application should I use for my Signature 1000 measurements?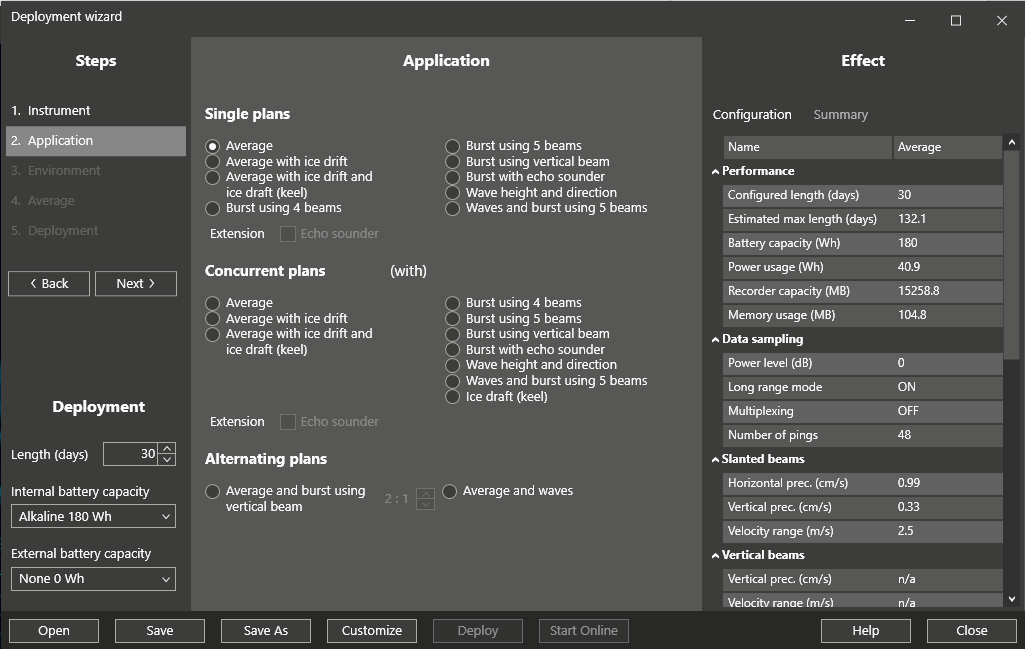 Figure: The application step in the Deployment wizard for a Signature 500 with all licenses activated. To the right the Effect tab gives an overview of the power consumption and memory usage.