How can I check which sampling scheme my Signature is set up to?
Follow
To get an overview of what data you will be collecting with a given configuration, and how the measurements are distributed in time, you can use the command READCFG in the terminal window after uploading the deployment file. This will give you the current configuration of the instrument, together with a table showing how the sampling scheme. These is a neat tool to use to make sure you have combined the right applications to obtain the data you need.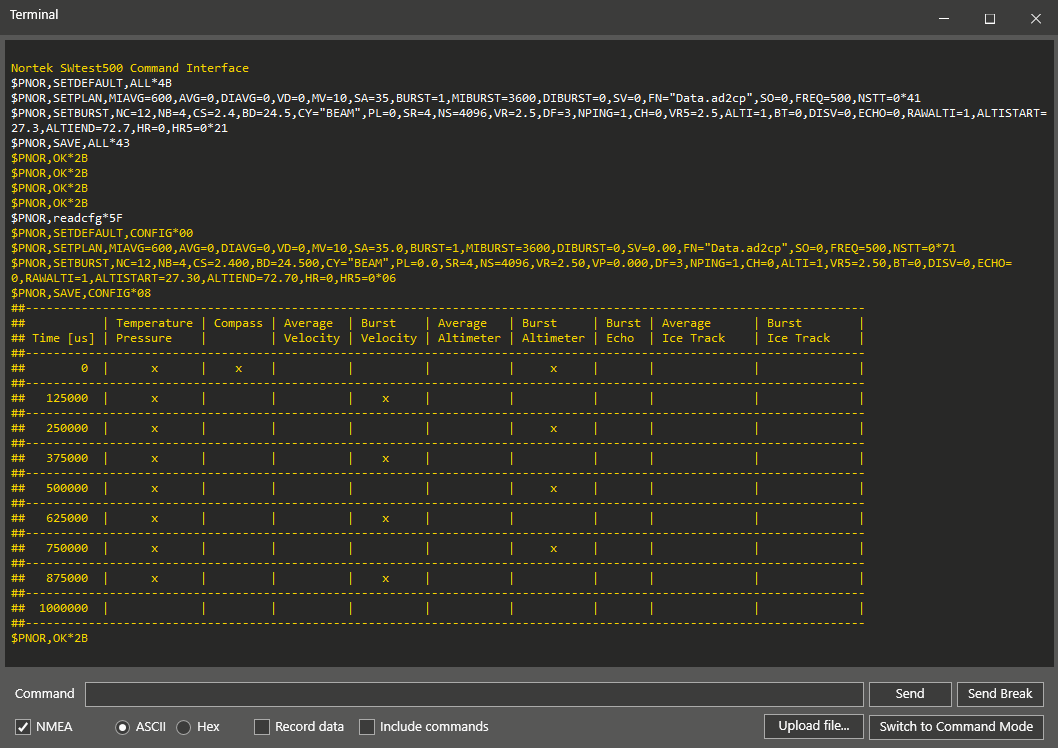 Figure: Response when sending the READCFG command to a Signature 500 set up with a single plan with the application Wave height and direction with a maximum sampling frequency (4 Hz). The instrument will switch between measuring velocities with the slanted beams in burst mode to get orbital velocities and measuring the distance to the surface with the altimeter. The sampling schedule can also be visualized as in the table below.
| Slot 1 | Slot 2 | Slot 3 | Slot 4 | Slot 5 | Slot 6 | Slot 7 | Slot 8 |
| --- | --- | --- | --- | --- | --- | --- | --- |
| Burst velocity | Altimeter | Burst velocity | Altimeter | Burst velocity | Altimeter | Burst velocity | Altimeter |