What is ringing and blanking distance?
Follow
Ringing and blanking distance are two common terms in monostatic systems. These systems use the same transducers to both transmit and receive signals. Most of Nortek's current meters and current profilers are monostatic, which includes Aquadopp, Aquadopp Profiler, AWAC and Signature instruments.
The transducers are applied with energy to make them vibrate and transmit sound waves into the water. After a certain signal has been emitted, the power supply is turned off to make the transducers stop vibrating and prepare them to listen for echoes. However, the acoustic activity around the transducers won't stop immediately, but are damped with time instead. This is called ringing.
To minimize the interference from ringing, the instruments are instructed to wait a short time before they start to listen for returned signals. The purpose of this is to give the transducers time to settle down first. As echoes nearby reach the instrument first, this means that there is a region right above the transducers where echoes are ignored. This period when no measurements are made is called blanking, and blanking distance is the vertical distance this constitutes to (see figure below). The blanking area along each beam is adjusted based on the transducer angle.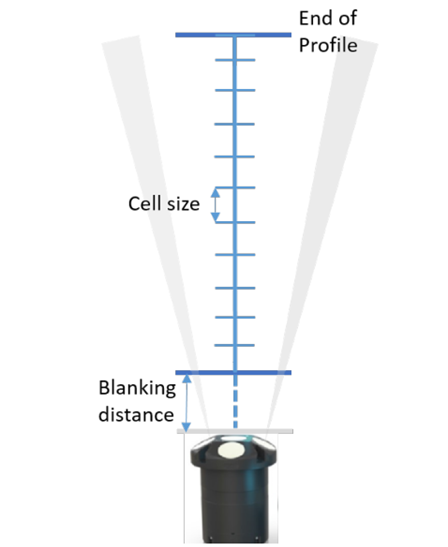 The minimum blanking distance is based on the distance of which the sound travels during attenuation of ringing. The transducers of the different frequency instruments require different time to stop vibrating and the blanking distance will thus vary with acoustic frequency. In general, lower frequencies require longer blanking distances. The minimum blanking distance also depends on the strength of the returned signals. With strong echoes, as in water laden with particles, the blanking distance can be smaller than when the echoes are weak, such as in very clear water.
When planning a deployment, the instrument software sets a default blanking distance. This can nevertheless be changed within a given range, depending on the instrument frequency. The position of measurement cells is shifted when changing the blanking distance, and blanking distance (along with number of cells, cell size and scattering condition) affects the total profiling range.
The consequence of ringing is loss of near-instrument measurements. One possible way to solve this problem is to use an Aquadopp Z-cell. These instruments have additional horizontal oriented transducers and can measure 2D current velocities at the level of the instrument.